WordPress is the most used content management system in the world. 40% of the top 10 million websites use WordPress. So, it's imperative that a prospective customer or user who visits your WordPress site should be suitably impressed.
Longer page load time is one of the main reasons for the loss of prospective customers. A 1-second delay in loading the page reduces the conversions by 7% and results in 11% fewer page views. 53% of the website visitors exit a site if it takes more than 3 seconds to load. Customer satisfaction ratings can dip by 16%.
If that wasn't important enough, Google now uses the page load time of your website to decide their search engine rankings. So, the faster your webpage loads, the more customers you get.
There are a lot of methods for checking whether the page load time is optimum or not. However, most of them require downloading external applications, which may not give you sufficient analysis of the traffic on your page. Writing and copying code may be required, which is cumbersome and time-consuming.
The easiest way is to use MonsterInsights' plugin to speed up your WordPress site.
Why is MonsterInsights Useful?
The reason for the effectiveness of this plugin is that MonsterInsights uses Google Analytics to monitor your website traffic. No external application needs to be used, and a site speed report is shown directly in your WordPress dashboard.
MonsterInsights provides relevant documentation on how to connect your WordPress account to your Google Analytics account.
They also have an amazing blog where tutorials, tips and resources are provided on everything from Google Analytics hacks to detailed steps for fully utilizing your MonsterInsights plugin.
MonsterInsights provides an overall score to your website along with a detailed report in the 'Insights' tab. An added advantage is that the reports and scores are calculated separately for the web version and mobile version of your site.
The greatest feature about this plugin is that it not only shows you the analytics of your website, it also offers detailed tips on how to decrease the server response time and blocking time of your website.
Tips are offered by the plugin on how to select the right hosting for your WordPress site, and whether to use managed hosting tools. Similarly, it offers advice on using a caching plugin, to drastically improve your page load time.
Details are also available on using a control delivery network (CDN) to speed up your website, for delivering cached content from the nearest server.
What are the features of the MonsterInsights plugin?
-You can get real-time insights into your website traffic. This includes data on who is online on your page and what they are doing.
-Detailed analysis and tracking are available for each post and page. Link tracking is available for outbound links, ads and other banners on your website.
-A great feature available is Scroll Tracking, which enables scroll-depth tracking so that you can see just where customers lose interest.
-Search engine optimization (SEO) is greatly simplified with stats available on the Yoast SEO plugin, and how the Yoast score influences your website traffic.
-You can see which category, page and keyword are the most popular, and how to use these to your advantage.
-Since themes and fonts play an important role in determining your website speed, MonsterInsights advises you on the design elements to be taken care of, for faster sites.
-If there are videos on your website, MonsterInsights uses Vimeo Pro analytics to show which users watched these and how long they were watched.
The images on your site can slow down your website if they have a large size. MonsterInsights gives you tips on using tools like TinyPNG to compress the size of the images.
The articles and other text on your website may be the reason for a slow website too. You can get advice on how to split your articles into pages and categories, for them to load faster.
The reports and analytics prepared by MonsterInsights are top-notch. A customizable widget can be used to see the most important statistics at any time.
Understanding customer demographics is an integral part of developing your customer base and maintaining a good relationship with the customer. MonsterInsights uses a tool for monitoring demographic information, so you can know more about your customers.
Getting to know the interests of the page visitors is important too. With MonsterInsights, that becomes possible.
The referral source feature helps you to know from where your page visitors landed up on your page.
MonsterInsights for eCommerce
If you are using WordPress for running a business, MonsterInsights is a great tool for getting all your business reports, sale analytics and revenue reports all in the same place.
You can find out which products performed the best using Google Analytics tracking. Another great advantage is that you can integrate WooCommerce, MemberPress and Easy Digital Downloads with your WordPress store, for enhanced eCommerce tracking and analytics.
A dedicated WooCommerce dashboard is also available for tracking your business on the go.
Talking about integrations, MonsterInsights offers as many as 20 of them with external applications for detailed tracking, and these help in easy maintenance of your WordPress site. Integrations are available with Google Adsense, Google Optimize, Facebook Instant Articles, Ninja Forms and Cookiebot, among others.
Why is MonsterInsights Ideal?
With MonsterInsights Pro, you can manage, track and obtain analytics for as many as 5 websites.
With MonsterInsights Agency, you can do this for up to 25 sites.
And MonsterInsights's confidence in their product is illustrated in their money-back policy. 100% of your payment will be refunded within 14 days if you are dissatisfied with the service.
Wrapping Up
MonsterInsights, from 2016, has seen tremendous growth. The company has provided their services to over 3 million WordPress creators.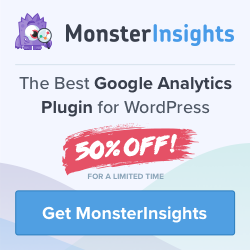 Apart from maintaining a blog and customer support service, MonsterInsights has a YouTube channel where they post great videos of their features and services.
Join the MonsterInsights community today, to revolutionise your WordPress experience!